Ilex aquifolium ( Common holly )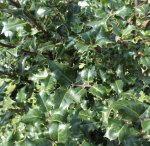 is a versatile evergreen shrub with prickly, twisted, glossy dark green leaves that are instantly recognisable. It is a useful, slow growing variety which can be grown as a specimen tree or clipped bush with lovely, bright red berries from late autumn to mid-winter. Perfect for using as intruder-proof hedging for security and around boundaries, it has a dense growth habit and is not fussy about soil type of situation, thriving in dense shade as well as full sun. Hedges should be trimmed in spring and specimen shrubs in summer. It can be cut back drastically if necessary without harming the plant.
Spacing Ilex hedge:
Plant bareroot Ilex hedging plants at 2 plants per metre,
33-50cms apart.
Plant
Height
Number of plants/unit price ( excluding delivery )
1-9
Price
10+
Price

Holly

80cm/100cm

£18.00

£15.00

100cm/125cm

£24.00

£21.00

125cm/150cm

£32.00

£27.00

150cm/175cm

£35.00

£32.00

175cm/200cm

£48.00

£45.00

200cm/225cm

£58.00

£52.00
Ilex aquifolium 125-150 cm