Prunus Laurocerasus Rotundifolia ( Cherry Laurel )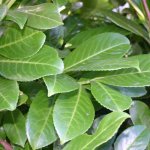 is tough, vigorous evergreen hedge plant with large, thick, glossy leaves that are effective at blocking light, muffling sound and slowing down wind that passes through it. This plant is excellent for dry, shady places with poor soil. It casts full shade and even chemically inhibits the growth of seeds in the soil underneath it, so weeds are unable to grow. Its flowers are attractive, rising little spires of white, scented blossom that attract bees and butterflies. The flowers mature into bitter, cherry like fruit, which are eaten by birds.
Every part of the plant is poisonous, apart from the flesh of the fruit. None of tastes nice, so children shouldn't want to eat any of it, but we don't recommend planting a cherry laurel hedge next to livestock. Cherry laurel is commonly planted as cover for game and wildlife.

Spacing a Cherry Laurel hedge:
Plant bareroot Cherry Laurel hedging at 2 plants per metre, 33-50cms apart.
Plant
Height
Number of plants/unit price ( excluding delivery )
1-9
Price
10+
Price

Cherry Laurel

100cm/125cm

£24.00

£14.00

125cm/150cm

£27.00

£17.00

150cm/175cm

£32.00

£24.00

175cm/200cm

£39.00

£35.00

200cm/225cm

£47.00

£45.00

225cm/250cm

£57.00

£54.00

250cm/275cm

£85.00

£82.00

275cm/300cm

£130.00

£120.00
Prunus l Rotundifolia 125-150 cm